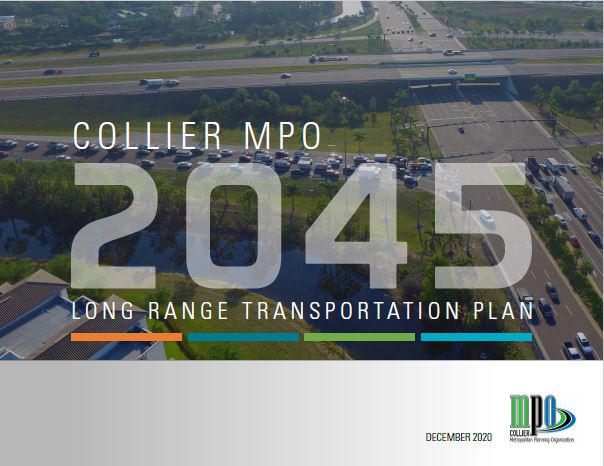 :
The MPO Board approved the 2045 Long Range Transportation Plan (LRTP) on December 11, 2020.  Click on the following links to view the electronic file: FinalCollier2045LRTP6-1-21; a double-sided printable version:  FinalCollier2045LRTP6-1-21_print ; appendices: Final_2045LRTP_Appendices_1-21-21 and Technical Compendium:  Final_2045LRTP_TechnicalCompendium_1-21-21 .
The MPO is required to complete a LRTP in order to receive federal funds. To be in compliance with federal requirements, the LRTP is updated every five years and must maintain a minimum time horizon of 20 years. The LRTP must be multimodal, including highway and transit modes and by reference to the Bicycle and Pedestrian Master Plan, non-motorized modes. The 2045 LRTP serves as an instrument to identify needed improvements to the transportation network and provides a long-term investment framework that addresses current and future transportation challenges. Projects must be identified in the 2045 LRTP – Cost Feasible Plan in order to be incorporated in the Transportation Improvement Program.
For more information regarding the 2045 or prior LRTPs, contact the MPO office at: colliermpo@colliergov.net , or call 239-252-5884.
2050 LRTP
The MPO has hired two consultants to compile the 2019 Base Year data requested by FDOT. Metro Forecasting Models, the firm that developed and operates Collier County's Interactive Growth Model (CIGM) submitted 2019 socio-economic data by Traffic Analysis Zones (TAZ) to FDOT on June 17, 2022. Stantec Consulting has provided the MPO with PDFs of maps and spreadsheets identifying the 2019 network data including: Roadways, Transit Routes, Traffic Signals, Public Parking Garages & Surface Lots and Traffic Counts. The PDFs can be viewed here: 2022.7.15_CollierMPO_LRTP_2019 Updates. Comments are welcome. Contact: Anne McLaughlin, MPO Director, at anne.mclaughlin@colliercountyfl.gov or 239-252-5884.
---