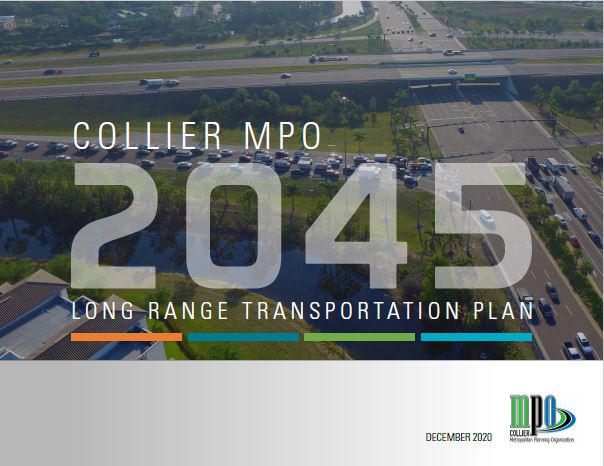 :
The MPO Board approved the 2045 Long Range Transportation Plan (LRTP) on December 11, 2020.  Click on the following links to view the electronic file: FinalCollier2045LRTP6-1-21; a double-sided printable version:  FinalCollier2045LRTP6-1-21_print ; appendices: Final_2045LRTP_Appendices_1-21-21 and Technical Compendium:  Final_2045LRTP_TechnicalCompendium_1-21-21 .
The MPO is required to complete a LRTP in order to receive federal funds. To be in compliance with federal requirements, the LRTP is updated every five years and must maintain a minimum time horizon of 20 years. The LRTP must be multimodal, including highway and transit modes and by reference to the Bicycle and Pedestrian Master Plan, non-motorized modes. The 2045 LRTP serves as an instrument to identify needed improvements to the transportation network and provides a long-term investment framework that addresses current and future transportation challenges. Projects must be identified in the 2045 LRTP – Cost Feasible Plan in order to be incorporated in the Transportation Improvement Program.
For more information regarding the 2045 or prior LRTPs, contact the MPO office at: colliermpo@colliergov.net , or call 239-252-5814.
---