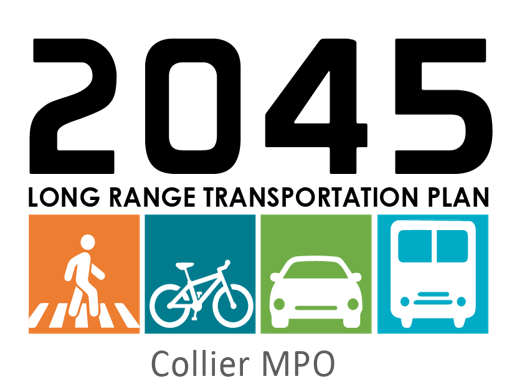 Jacobs Engineering was awarded the contract and began work on the 2045 Long Range Transportation Plan (LRTP) in late Spring 2019. The project began in earnest when kick off meetings were held with the Technical Advisory and Citizens Advisory Committees (TAC and CAC) in August 2019. Jacobs hosted an informational booth at the Immokalee Ciclovia in early November 2019. The results of a preliminary on-line survey and hard copy forms completed at the Immokalee event will be posted here as soon as they are available.
The MPO Board has approved the following documents for the 2045 LRTP:
FDOT ran the District One Planning Model against the E+C Network to provide a Network Deficiency Analysis. Click on the 3-13-2020 Model Run to view the map that FDOT provided.  The map shows where the amount of traffic projected for 2045 exceeds the capacity of the Existing + Committed roadway network. This is the first step in identifying needed roadway improvements and modeling the resulting network to see which improvements are most effective.
The network modeling is the foundation for developing the MPO's Needs Plan, which is unconstrained by cost. The next step is to develop a Cost Feasible Plan (CFP) that balances projected costs with available funding. Alternative network scenarios will be tested and evaluated for how well they meet the LRTP's Goals, Objectives and Decision-Making Framework. This phase of developing the LRTP requires an intensification of public outreach. This page will be used to display on-line surveys, interactive maps, plan progress, meeting dates and documents. Please check back periodically to keep up to date with the Plan's progress, or if you prefer, join the Adviser Network to receive email updates on the Plan. You may also leave comments  on the Plan or call Brandy Otero at 239-252-5859 for more information.
The following documents provide additional information that may be of general public interest:
_______________________________________________________________________________________________________________________________

The 2040 Long Range Transportation Plan will remain in effect until the MPO Board adopts the 2045 LRTP
The 2040 LRTP was adopted by the MPO Board on December 11, 2015 and has been amended three times since adoption. The first two amendments (September 9, 2016 and October 14, 2016) are included in the final 2040 LRTP. The third amendment, May 25, 2018, was created as a standalone amendment and should be considered with the complete LRTP.
Below are links to the 2040 LRTP, the May 25, 2018 amendment and related technical documents. LRTPs prior to the 2040 LRTP may be obtained by contacting the MPO office at 239-252-5814.
2040 LTRP and Amendments
2040 LRTP as Amended September 9, 2016 and October 14, 2016. The May 25, 2018 amendment while created as a stand-alone amendment, should be considered along with the full LRTP – 2040 LRTP Amendment Adoption Report May 25, 2018
2040 LRTE (Long Range Transit Element)
2040 LRTP Technical Documents
Socio-Economic Methodology
Financial Technical Memorandum
Freight Considerations Technical Memorandum
District 1 Regional Planning Model Documents
D1RPM Executive Summary
D1RPM Validation Report
D1RPM Technical Resource Guide