Performance management is a strategic approach to connect investment and policy decisions to help achieve performance goals. Performance measures are quantitative criteria used to evaluate progress. Performance measure targets are the benchmarks against which progress is assessed using available data.  The Moving Ahead for Progress in the 21st Century Act (MAP-21) requires state departments of transportation (DOT) and metropolitan planning organizations (MPO) to conduct performance-based planning by tracking performance measures and establishing data-driven targets to improve those measures. Performance-based planning ensures the most efficient investment of transportation funds by increasing accountability, providing transparency, and linking investment decisions to key outcomes related to seven national goals:
Improving safety;
Maintaining infrastructure condition;
Reducing traffic congestion;
Improving the efficiency of the system and freight movement;
Protecting the environment; and
Reducing delays in project delivery.
The Fixing America's Surface Transportation (FAST) Act supplements MAP-21 by establishing timelines for state DOTs and MPOs to comply with the requirements of MAP-21. The Florida Department of Transportation (FDOT) and MPOs must coordinate when selecting performance targets, and public transportation providers must coordinate with states and MPOs in the selection of state and MPO transit asset management and transit safety performance targets.
PERFORMANCE MEASURES AND TARGETS

FHWA and FTA jointly issued a Planning Rule to document changes in the statewide and metropolitan planning processes consistent with the Moving Ahead for Progress in the 21st Century (MAP-21) Act and the Fixing America's Surface Transportation (FAST) Act. Among other changes, this rule specifies the requirements for state DOTs and MPOs to implement a performance-based approach to planning and programming. Under this framework, the three FHWA performance measures (PM) rules and the FTA transit asset management and transit safety rules established various performance measures to assess roadway safety (PM1), pavement and bridge condition (PM2), system performance and freight movement (PM3), transit asset manage­ment (TAM), and transit safety. The Planning Rule and the performance measures rules also specify how MPOs should set targets, report performance, and integrate performance management into their Long-Range Transportation Plans (LRTP) and Transportation Improvement Programs (TIP).
FDOT and the MPOAC developed the TPM Consensus Planning Document to describe the processes through which FDOT, the MPOs, and the providers of public transportation in MPO planning areas will cooperatively develop and share information related to transportation performance management and target setting.
The Collier MPO tracks progress made towards meeting its adopted performance measures and targets, which can be viewed at the following link:TRANSPORTATION PERFORMANCE MEASURES
The MPO reports on progress made towards achieving the performance targets in the 2020 Annual Report (3) , the Fiscal Year TIP 2021 – 2025 Transportation Improvement Program, and in Appendix F of the 2045 Long Range Transportation Plan .
MPO PROJECTS RESULTING FROM PERFORMANCE MEASURES
The following is a sampling of projects the MPO has underway to implement its adopted performance measures and targets.
Transit Asset Management

The Collier MPO added a new transit priority project in 2019 to purchase a replacement bus for the Collier Area Transit (CAT) system, contributing $500,000 in MPO funds specifically to address the Transit Asset Management Performance Plan target for rolling stock.  The MPO included the same amount in its newly adopted transit priorities for 2020.
Safety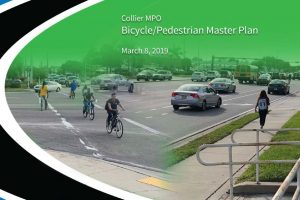 The Bicycle and Pedestrian Master Plan adopted in March 2019 prioritizes 6 high bike/ped crash corridors for conducting Safety Corridor Studies that incorporate a Complete Streets analysis, in direct response to FDOT's Vision Zero Safety Performance Target for Nonmotorized Fatalities and Serious Injuries, which the MPO adopted.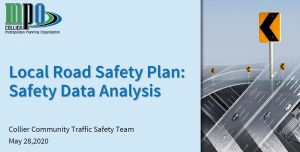 The MPO is developing a Local Road Safety Plan (LRSP) to dig deeper into local crash statistics in order to fine tune local safety enhancements and partner with FDOT and Local Law Enforcement Agencies in funding public safety education. The LRSP is analyzing vehicular crashes as well as nonmotorized crashes.