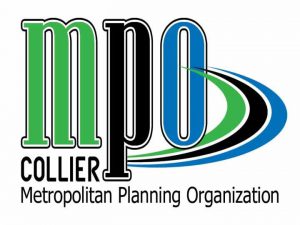 A Metropolitan Planning Organization (MPO) is a federally mandated and federally funded transportation policy-making organization in the United States and is made up of representatives from local governing bodies and public transportation authorities. A signed agreement is required between the Florida Governor and the units of general purpose local government that together represent at least 75 percent of the population within the MPO Planning Area. MPOs were established to ensure that existing and future expenditures for transportation projects and programs are based on a Continuing, Cooperative, and Comprehensive ("3-C") planning process. The Collier MPO is committed to providing the urban area with a Continuing, Cooperative and Comprehensive transportation planning process to assure that highway facilities, mass transit, bicycle/pedestrian and other intermodal facilities be properly located and developed in relation to the overall development of the community. Statewide and metropolitan transportation planning processes are governed by law 23 U.S.C. §§ 134–135 . As of 2015, there were 408 MPO's in the United States.
CORE FUNCTIONS OF AN MPO
Establish a setting: establish and manage a fair and impartial setting for effective regional decision-making in the
metropolitan area (UZA)
Evaluate alternatives: evaluate transportation alternatives, scaled to the size and complexity of the region, to the
nature of its transportation issues, and to the realistically available options
Maintain a Long-Range Transportation Plan (LRTP): develop and update a fiscally constrained long-range
transportation plan for the UZA covering a planning horizon of at least twenty years that fosters

mobility and access for people and goods,
efficient system performance and preservation, and
quality of life

Develop a Transportation Improvement Program (TIP): develop a fiscally constrained program based on the long-
range transportation plan and designed to serve the UZA's goals while using spending, regulating, operating,
management, and financial tools
Involve the public: involve the general public and all significantly affected sub-groups in the four essential functions
listed above.
The Collier Metropolitan Planning Organization (MPO) represents the 2016 estimated population of 350,000 people throughout Collier County including the Cities of Everglades City, Naples, and Marco Island. The MPO has the authority to plan, prioritize, and select transportation projects for federal funding appropriated by the U.S. Congress through the US Department of Transportation , Federal Highway Administration and Federal Transit Administration ; and is responsible for ensuring the region is in compliance with federal planning requirements and national ambient air quality standards, if appropriate.
MPOs encourage and provide numerous opportunities for public involvement in the transportation planning process. All Collier MPO meetings are open to the public and include a public comment opportunity during each meeting. The MPO Board meetings are recorded and broadcast live on the Collier County television station and then re-broadcast at other times to allow the public multiple opportunities to view the MPO Board meetings from their homes.
GOVERNANCE
Federal law requires that MPO's be governed by a board composed of local elected officials, modal authorities, and appropriate state officials. Currently, the Collier MPO Board is governed by a 9-member board including each of the five members of the Collier County Board of County Commissioners, two members from the City of Naples, one representative from the City of Marco Island and one representative from the City of Everglades City. The Florida Department of Transportation serves as an agency advisor.
FUNDING
The MPO is funded by federal grant programs authorized by the U.S. Congress and by contributions from the Florida Department of Transportation and local government members. For more information about funding for the Collier MPO's budget for planning activities, please refer to the most recently adopted Unified Planning Work Program. For more information about funding for roads, bridges, transit, aviation, and walking and bicycling facilities, please refer to the most recently adopted Transportation Improvement Program.
MPO STRUCTURE
The Collier MPO is comprised of an executive board, the Collier MPO Board, a Technical Advisory Committee (TAC), Citizens Advisory Committee (CAC), Bicycle and Pedestrian Advisory Committee (BPAC), Congestion Management Committee (CMC), Local Coordinating Board (LCB) and Staff. The MPO Staff provides professional transportation planning services and ongoing administration of planning projects within the MPO planning area. Staff is managed by an Executive Director who reports to the MPO Board.
LOCATION
The Collier MPO is located at 2885 South Horseshoe Drive, Naples, FL 34104. The MPO office may be reached by phone at (239) 252-5814, by fax and (239) 252-5885 and by email at collier.mpo@colliercountyfl.gov
TITLE VI
The MPO's planning process is conducted in accordance with Title VI of the Civil Rights Act of 1964 and related statutes. Any person or beneficiary who believes that within the MPO's planning process they have been discriminated against because of race, color, religion, sex, age, national origin, disability, or familial status may file a complaint with the Title VI/Nondiscrimination Program Coordinator, Anne McLaughlin at Anne.McLaughlin@colliercountyfl.gov  or 239-252-5884 or by writing to Collier MPO, Attn: Title VI Program Coordinator, 2885 South Horseshoe Drive, Naples, FL 34104.