LOCAL COORDINATING BOARD – LCB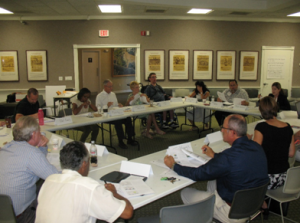 The purpose of the LCB is to assist the MPO in identifying local service needs and to provide information, advice and direction to the Community Transportation Coordinator (CTC) on the coordination of services to be provided to the transportation disadvantaged within their local service area.
The LCB also reviews the amount and quality of service being provided to the County's transportation disadvantaged population. The Collier LCB meets on a quarterly basis and holds at least one public hearing a year. The purpose of the hearings is to provide input to the LCB on unmet transportation needs or any other areas relating to local transportation services.
Local Coordinating Board Bylaws
ANNOUNCING LCB BOARD VACANCY FOR A REPRESENTATIVE OF THE ELDERLY (AGE 60+) AND A CITIZEN ADVOCATE/ NON-USER. RESIDENTS INTERESTED IN APPLYING TO FILL THE VACANCY CAN DOWNLOAD A MPO Advisory Committee Application AND SEND IT TO THE MPO BY EMAIL OR REGULAR MAIL AT Collier MPO, 2885 South Horseshoe Drive Naples, FL 34104.
Please contact Brandy Otero by email or phone at 239-252-5859 to obtain more information or to obtain a copy of the application.
Local Coordinating Board
| | |
| --- | --- |
| Name | Representing |
| Andy Solis, Chair | Collier County – Board of County Commissioners |
| Anne Chernin | Elderly |
| Sherry Brenner | Disabled |
| Cheryl Burnham | Florida Association for Community Action |
| Eileen Streight | Citizens Advocate/Non-User |
| Susan Corris | Southwest Florida Regional Workforce Development Board |
| Dale Hanson | Florida Department of Transportation (FDOT) |
| Ruben Martinez | Veteran Services |
| Nichole Spencer | Representative for Children at Risk |
| Norma Adorno | Area Agency on Aging SWFL – FL Department of Elder Affairs |
| John Kasten | Public Education |
| Signe Jacobson | Florida Agency for Health Care Administration |
| Robert Richards | Florida Department of Education Division of Vocational Rehab Services |
| Bella AmanKwaa | Florida Department of Children and Family Services |
| Dylan Vogel | Citizens Advocate/User |
| Leah Watson | Agency for Persons with Disabilities |
| Bianca Borges | Local Medical Community |
| VACANT | Private Transportation Industry |
Community Transportation Coordinator (CTC)
Collier County Board of Commissioners
C/O Michelle Arnold
Main (239) 252-5841
Medicaid Transportation Provider
Lisa Sanders
Medical Transportation Management
789 South Federal Highway, #201
Stuart, FL 34994
Phone Number: (772) 266-4971
Commission for the Transportation Disadvantaged (CTD)
605 Suwannee Street, MS-49
Tallahassee, FL 32399-0450
The CTD Helpline phone number is: 1-800-983-2435.
Designated Official Planning Agency
Collier Metropolitan Planning Organization
2885 South Horseshoe Drive
Naples, FL 34104
239-252-5859