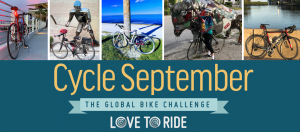 The Global Bike Challenge is back
Are you ready to ride your bike in a global competition, win prizes and help your workplace top the leaderboards?
This September, hop on your bike to celebrate and promote the countless benefits that bike riding can bring. Ride as an individual or join your workplace to compete against companies both locally and around the world.
Visit Love to Ride to learn more about Cycle September.