AAA's 'School's Open Drive Carefully' campaign, urges drivers to slow down, eliminate distractions, watch for pedestrians and bicyclists, and obey traffic laws when passing bus stops and driving through neighborhoods and school zones.
So far this school year, AAA has distributed more than 1200 roadside signs throughout the state, urging drivers to be careful.
The Florida Teen Safe Driving Coalition has approximately 75 'School's Open, Drive Carefully' yard signs available for FREE for distribution by you or your organization/agency.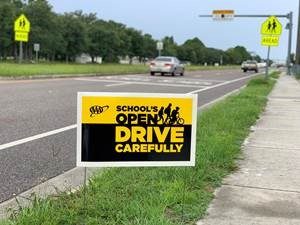 Due to the small quantity remaining on hand, signs will be available on a first come, first serve basis until quantity is depleted.
REQUEST YOUR FREE SIGN HERE: https://forms.gle/i5Gd2zNhbvrtSbhk8
PLEASE NOTE:
1. Qty. requested must be in increments of 5 (i.e.: 5 signs, 10 signs, 15 signs).
2. A maximum order request of 15 signs per organization/agency is preferred).
For questions please reach out to  Melissa Valido, Florida Teen Safe Driving Coalition, Coalition Leader at 850-570-8879 or info@flteensafedriver.org