The First Green Bicycle Boxes in Florida
The first green-painted bicycle turn boxes in Florida will be installed this August at the intersection of Treeline Avenue and Daniels Parkway in Fort Myers. Bicycle boxes are designed to increase cyclist safety while making left-turns at large intersections. A cyclist using a turn box will proceed straight across an intersection at a green light and turn 90 degrees to the left inside of a turn box on the other side of the road. The cyclist will then repeat this procedure for the second part of the left turn. While it may take longer, bicycle boxes can increase safety by reducing conflicts between vehicles and cyclists, particularly when a cyclist in trying to make a left turn in the travel lane while pedaling alongside traffic.  Read more about bicycle boxes in this recent Naples Daily News article.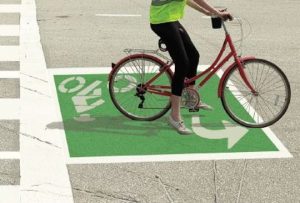 MPO Issues Call for Non-Motorized Projects
The MPO is issuing a Call for Non-Motorized Projects to its member entities. The call is based on the MPO's recent adoption of the Bicycle and Pedestrian Master Plan. Member entities are free to choose which projects to submit provided they are identified in the Network Needs analysis (Chapter 5) and/or other local plans incorporated by reference in the Bicycle and Pedestrian Master Plan. Member entities may submit up to one project for each jurisdictional area represented by voting membership on the MPO Board, and MPO staff may submit one project of regional significance, for a total of 10 projects:
1 project located in each County Commissioner District (total 5)
2 projects located within the City of Naples
1 project located within City of Marco Island
1 project located within City of Everglades City (inclusive of Chokoloskee and Plantation Island)
1 project submitted by MPO staff
Submittal Requirements and Timeframe:
The Collier MPO Non-Motorized Project Concept Sheet (Attachment 1) must be electronically submitted to the MPO on or before August 1, 2019. Please submit to Eric Ortman (eric.ortman@colliercountyfl.gov); for any questions contact Eric Ortman by email or by calling 239-252-5874.
Applications must address all questions as completely as feasible.
Preliminary staff and advisory committee review and ranking in September 2019
FDOT District 1 Priority Project Information Packets (Attachment 2) due by November 1, 2019
Final staff and advisory committee review in January 2020 (MPO Scoring Sheet Attachment 3)
MPO staff transmits final application forms to FDOT for a constructability review in February 2020
FDOT reviews and comments on application forms and receives follow-up information from submitting agencies during February – March 2020. If necessary due to FDOT revisions to project submittals, the advisory committees review again in April – May 2020
MPO Board action on project priorities June 2020 Board Meeting
Attachments include:
Bicycle Maps
Marco Island Bike Path Master Plan Map
Walkable Community Studies
A walkable community is defined as having compact residential development, a mix of land uses, a well-connected street network, bus stops, sidewalks, bicycle lanes, and mixed-use paths. It is a community where one can safely and efficiently get to the store, school, park, or other destinations within the neighborhood without the use of an automobile.
A walkable community study is a study to assess pedestrian conditions (walkability) in a community. The study analyzes the layout and design of the existing facilities in a community. The analyzed facilities and recommended improvements are then tiered and phased for implementation based on the needs of the community and the impact that a change in the facility will have on a neighborhood.
The Collier MPO has completed walkable community studies in three communities which may be downloaded using the links below. A draft of a fourth study for Golden Gate City is also available for download. The results of the studies will be incorporated into the Collier MPO's Bicycle and Pedestrian Master Plan. The Plan is one source used by the Bicycle and Pedestrian Advisory Committee to recommend prioritization of bicycle and pedestrian projects that are submitted for consideration of future funding. The results may also be used by Collier County government, Community Redevelopment Agencies (CRAs) and Municipal Service Taxing Units (MSTU) in developing their capital improvement programs.
Bayshore Walkable Community Study
Immokalee Walkable Community Study
Naples Manor Walkable Community Study
Golden Gate Walkable Community Study
FDOT Arterial Safety Study
The FDOT Arterial Safety Study was part of a FDOT District One Traffic Safety Project effort and covered US 41 between Commercial Drive and Guilford Road. The study examined the entirety of the road including how it functions as an arterial; vehicular, bicycle and pedestrian usage and crashes; and provided recommendations for improving the overall safety of the corridor.
FDOT Pedestrian / Bicycle Safety Audit
The FDOT sponsored FDOT Pedestrian/Bicycle Safety Audit covered parts of US 41 and Airport Road in the immediate vicinity of the Collier County government center. The study included site reviews and extensive analysis of bicycle/pedestrian traffic, bicycle/pedestrian crash data, roadway design and geometry, and the existing built environment. The study also provided recommendations for improving safety in the corridor.
Collier MPO Bicycle and Pedestrian Safety Study
The Collier MPO Bicycle and Pedestrian Safety Study was an analysis of bicycle and pedestrian crash data to identify high-crash corridors and recommendations for more quantitatively including safety in the bicycle and pedestrian project selection process. The study also includes a summarization of a public survey on bicycle and pedestrian crash risks.